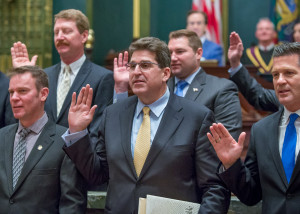 Harrisburg – Senator John DiSanto (R-15) today took the oath of office to begin serving his first term in the state Senate.
A second-generation family business owner in construction and real estate development, Senator DiSanto was elected by 15th Senatorial District voters in his first bid for public office in November. The 15th Senatorial District covers most of Dauphin County and all of Perry County.
"I am humbled to be given the great honor of representing the citizens of Dauphin and Perry counties in the state Senate," said DiSanto. "I was sent to Harrisburg to work on reforming government, cutting wasteful spending, eliminating property taxes and removing bureaucratic barriers to job creation, and that will be my focus."
In addition to swearing in new and returning members of the Senate, today's ceremony served to kick off the General Assembly's 2017-18 legislative session.
Video and photos of today's ceremony will be posted at the senator's website, www.senatordisanto.com.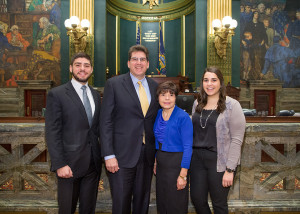 CONTACT: Chuck Erdman, 717-787-6801, cerdman@pasen.gov