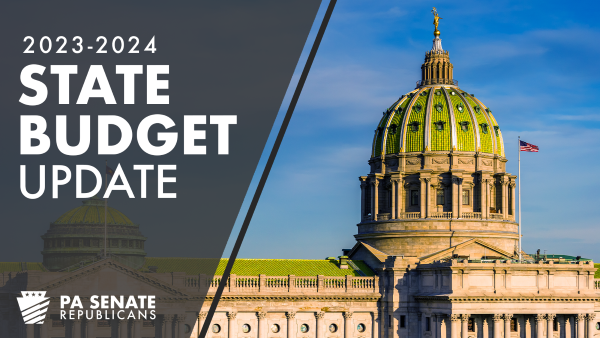 HARRISBURG – State Sen. John DiSanto (PA-15) today announced the Senate has advanced two bills to implement key parts of the 2023-24 budget and drive out funding to schools, hospitals, EMS providers, higher education, libraries and other entities that rely upon state support. These fiscal code bills take an important step to further finalize portions of the state budget which require implementation language.
House Bill 1300, approved by a bipartisan vote, reauthorizes assessments and payments to hospitals, boosts reimbursement rates for EMS providers, and reauthorizes judicial fees that courts rely on for funding. All three of these budget items are important and time-sensitive, DiSanto said.
In addition, the bill directs funding to many budget items related to education about which DiSanto hears often from constituents and stakeholders, including:
Providing for a two-year tuition freeze for PASSHE schools.
Allocating more than $260 million for community colleges.
Distributing more than $70 million in state aid for libraries.
Allocating more than $76 million for special education funding for Intermediate Units.
Reimbursing schools for providing free breakfasts for all students ($46.5 million).
Transferring more than $8.5 million to maintain current PHEAA grant levels.
Distributing $11 million in grants for non-public school safety initiatives.
House Bill 1300 also distributes $150 million for the state's Clean Streams Fund to address agricultural conservation, nutrient management, clean water procurement and stormwater management. The bill also allocates $16 million in medical assistance incentive payments and changes how nursing home reimbursements are calculated to prevent dramatic swings that could force many providers to cease operations.
In addition to directing expenditures, House Bill 1300 includes DiSanto's proposal for Pennsylvania Money Match, originally Senate Bill 24 that was passed out of the Senate unanimously on June 6. Money Match would authorize the Pennsylvania Treasury Department to automatically return single-owner property for living individuals valued up to $5,000 after a thorough identification and verification process. It seeks to streamline the return of unclaimed funds by eliminating the need for citizens to search and file a claim.
The Senate also voted today to advance Senate Bill 757, which addresses other priorities included in the original budget deal Senate Republicans negotiated with Gov. Josh Shapiro in June.
This includes the creation of the Pennsylvania Award for Student Success (PASS) program to provide additional educational options for students in failing schools, as well as $150 million in new funding for the state's popular Educational Improvement Tax Credit program to expand educational opportunities to families throughout the state.
DiSanto underscored that while these bills have been advanced by the Senate today, the critical support authorized by the legislation cannot be finalized until the House of Representatives also returns to session.
DiSanto said, "While House Democrats have engaged in political posturing, the Senate has consistently demonstrated leadership, passing an on-time, no-tax-increase budget and now completing the enabling legislation necessary to implement key budget provisions. It's time for the House to come back and get this spending plan done. Pennsylvanians can't afford for House Democrats to continue sitting on the sidelines."
CONTACT: Chuck Erdman cerdman@pasen.gov