In this Update:
Grants Available for Parks, Recreation, and Conservation
DiSanto Pension Forfeiture Bill Passes Key Committee Vote
Committee Roundup
Pennsylvania Budget Process Enters New Era
Next Week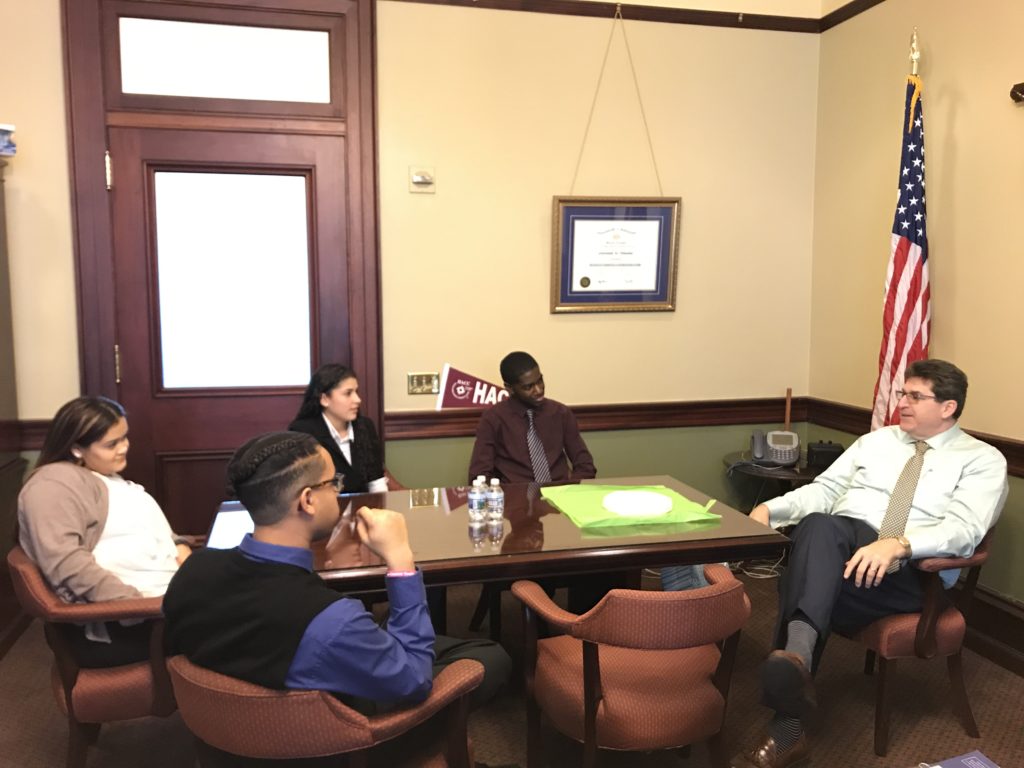 I enjoyed meeting with students from Dauphin County Technical School to discuss career and technical education.
Grants Available for Parks, Recreation, and Conservation
Local governments and recreation and conservation organizations can apply now for state grants to help pay for recreation and conservation projects.
Department of Conservation and Natural Resources' Community Conservation Partnerships Program grants benefit planning, acquisition, and development of public parks; recreation areas; motorized and non-motorized trails; river conservation and access; stream buffers; open space conservation; and regional and statewide partnerships to better develop and manage resources.
DCNR has scheduled a February 27 webinar to help potential applicants. The 2019 grant application round closes April 10.
State funding sources for the Community Conservation Partnership Program grants include: Snowmobile and ATV Registrations, Growing Greener Bond Fund, Environmental Stewardship Fund, and the Keystone Recreation, Park and Conservation Fund.
For more information, visit DCNR's Community Conservation Partnership Grant Program website.
DiSanto Pension Forfeiture Bill Passes Key Committee Vote
Legislation I introduced to ensure that public employees who commit job-related felonies are stripped of their taxpayer-funded pension was approved Tuesday by the Senate Finance Committee in a unanimous, bipartisan vote. The bill was also moved out of the Senate Appropriations Committee and now moves to consideration by the entire Senate.
This legislation, Senate Bill 113, closes the loophole used by unscrupulous public officials whereby they plead guilty to non-forfeiture crimes so they can keep a pension. This issue made headlines when the State Employees Retirement System (SERS) voted to restore the more than $245,000 annual public pension of admitted felon and former State Senator Robert Mellow.
Currently, the Public Employee Pension Forfeiture Act requires a public employee to forfeit his or her pension only for certain crimes listed in the act. In practice, this law allows public employees charged with a forfeiture crime to plead guilty to a different non-forfeiture crime in order to avoid pension forfeiture.
My legislation would require pension forfeiture if a public employee or public official is convicted, pleads guilty, or pleads no contest to any felony offense related to his or her employment.
In addition, the legislation ensures that such criminal convictions are reported to state pension boards. Current law does not require the employee, courts, or state agencies to send copies of court records upon conviction. Instead, pension boards learn of pension forfeiture cases through agency websites and newspaper articles. Under Senate Bill 113, courts would now be required to notify state pension systems of all pension forfeiture cases.
At a time when public pensions are wreaking havoc on state and school district budgets, it's especially egregious that taxpayers are continuing to fund the pensions of public employees who commit felonies on the job. I appreciate the Senate Finance Committee's support and look forward to Senate passage soon.
Committee Roundup
State Government
Senate Bill 9 designates the Eastern Hellbender as Pennsylvania's state amphibian.
Senate Bill 26 releases Project 70 restrictions on lands owned by the Borough of Topton, Berks County, in exchange for the imposition of the restrictions on other lands to be acquired by the borough.
Senate Bill 130 releases a use restriction and reversionary interest affecting a property located partly in the Township of Mahoning and partly in the Borough of Danville in Montour County.
Veterans Affairs & Emergency Preparedness
Senate Bill 127 reauthorizes Pennsylvania's 911 Law, which is set to expire on June 30, 2019.
Senate Bill 128 codifies the Civil Air Patrol's state operations in Title 51 under the leadership of the Adjutant General.
Pennsylvania Budget Process Enters New Era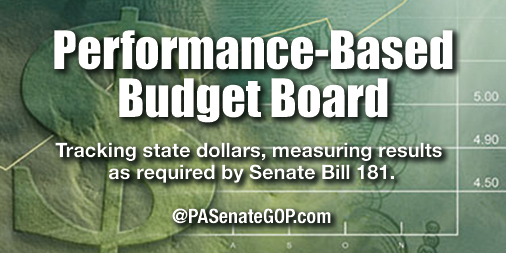 The Performance-Based Budgeting process – measuring state spending against expected results – got underway in Pennsylvania last week.
The Performance-Based Budgeting Board approved reports by the Independent Fiscal Office to grade the Banking and Security Department and General Services Department, as well as criminal justice agencies and tax credit programs.
Performance-Based Budgeting was implemented as a result of legislation I co-sponsored, Senate Bill 181 of 2017. You can view the board hearings here.
Next Week
The Senate will reconvene Monday at 1 p.m. You can watch session live at SenatorDiSanto.com.