In this Update:
DiSanto Urges Fiscal Restraint in Governor's 2019-20 Budget Request
DiSanto Bill Expanding Public Employee Pension Forfeiture Act Approved by Senate
DiSanto Appointed to State Employees' Retirement Board, Capitol Preservation Committee
DiSanto and Helm to host Vietnam Veterans Recognition Event
DiSanto Announces $15 Million Assistance for Lower Paxton Sewer Upgrades, Halifax Drainage Project
2019 Adult Trout Stocking Schedules Now Available
Other Bills Passed by the Senate
Committee Roundup
Up Next
---
DiSanto Urges Fiscal Restraint in Governor's 2019-20 Budget Request
It is important to stress the need to hold down state spending and make government operate more efficiently following Governor Tom Wolf's unveiling of a $34.1 billion General Fund budget on Tuesday.
The Governor's 2019-20 budget proposal includes a $927 million increase from last year's budget, as well adding $500 million in supplemental spending to the current fiscal year.
While I am pleased the Governor has abandoned his attempts for broad-based tax hikes, I am very concerned with the continued growth in state spending. Our debt burden is now one of the biggest budget cost drivers as the state has repeatedly relied on borrowing and one-time fund transfers to support new spending. Dramatically higher spending now will only ensure future tax increases.
For the fifth consecutive year, the Governor is requesting an energy tax on Marcellus Shale extraction and has called for a $15 minimum wage. These proposals will lead to less business investment in our communities and fewer jobs for hardworking Pennsylvanians.
Increased costs on business are all passed on to Pennsylvania consumers. If the Governor truly wants to attract new businesses to Pennsylvania we must reduce state taxes and regulations, not impose additional burdens and barriers to economic growth.
The Senate begins its detailed review of the Governor's budget proposal with a three-week series of Departmental Budget Hearings beginning on February 19. The Senate Appropriations Committee will hear from cabinet secretaries and other officials to learn their plans for the upcoming fiscal year. The state's current fiscal year ends June 30.
I will look with my colleagues at every department to identify opportunities to save money for the taxpayers of Pennsylvania before enacting a new budget.
DiSanto Bill Expanding Public Employee Pension Forfeiture Act Approved by Senate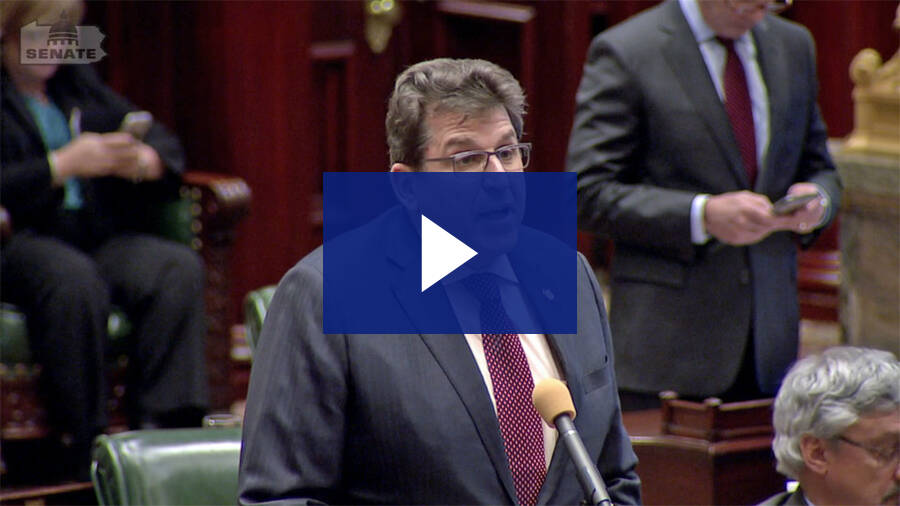 Legislation I introduced to ensure that public employees who commit job-related felonies are stripped of their taxpayer-funded pension was unanimously approved Monday by the Senate and now goes to the House of Representatives for consideration. Last session, this proposal passed both the full Senate and the House Judiciary Committee unanimously, but did not receive a final vote in the House.
Currently, the Public Employee Pension Forfeiture Act requires a public employee to forfeit his or her pension only for certain crimes listed in the act. In practice, this law allows public employees charged with a forfeiture crime to plead guilty to a different non-forfeiture crime in order to avoid losing their pension.
Senate Bill 113 would require pension forfeiture if a public employee or public official is convicted of or pleads guilty or no contest to any felony offense related to his or her employment.
The measure also closes the "Mellow Loophole," through which former State Senator Bob Mellow of Lackawanna County had his $245,000 a year pension restored despite pleading guilty and being sent to prison on federal conspiracy charges.
In addition, the legislation ensures that criminal convictions involving public officials are reported to state pension boards. Current law does not require the employee, courts, or state agencies to send copies of court records upon conviction. Under my bill, courts would now be required to notify state pension systems of all pension forfeiture cases.
It is well past time to require all egregious offenders to face a financial penalty for violating the public trust. We need to get this done for the taxpayers of Pennsylvania. I hope the House takes this legislation up soon and moves it across the finish line.
DiSanto Appointed to State Employees' Retirement Board, Capitol Preservation Committee
I was recently appointed to the State Employees' Retirement Board and the Pennsylvania Capitol Preservation Committee by Senate President Pro Tempore Joe Scarnati.
The State Employees' Retirement Board is an 11-member panel responsible for running the State Employees' Retirement System (SERS). SERS manages the pension benefits of approximately 239,000 employees and retirees for 102 public sector employers. In 2017, SERS managed $29.7 billion in assets.
The State Employees' Retirement Board makes decisions that impact state employees and retirees, as well as the taxpayers who ultimately foot the bill. I declined participation in the state pension plan myself when I became a legislator, and I look forward to using this position to ensure that the system is run in a manner that prioritizes efficiency, and achieves the best returns on investment possible for taxpayers and retirees alike.
As a member of the Pennsylvania Capitol Preservation Committee, I'll be working to implement programs to conserve and restore the Pennsylvania State Capitol and its contents, maintaining them for future generations.
The committee's 15 members include lawmakers, the Secretary of the Department of General Services, the Executive Director of the Pennsylvania Historical and Museum Commission, the Secretary of the State Art Commission, and private citizens.
The Pennsylvania State Capitol is designated a National Historic Landmark and is widely recognized as one of the most impressive state capitol buildings in the nation. More than a century old, it requires ongoing maintenance and restoration. I am committed to preserving this historic landmark in a way that respects the current taxpayers and private donors who pay for the upkeep. I'll bring my construction and management experience to the table as we plan and execute projects to ensure the work is necessary, affordable and completed as directed.
DiSanto and Helm to host Vietnam Veterans Recognition Event
State Representative Sue Helm and I will be honoring local veterans of the Vietnam War era during a ceremony at 9 a.m. on March 29, 2019 at the Widener University School of Law, 3800 Vartan Way, Harrisburg. We are pleased to have Major General Anthony Carrelli, the Adjutant General of Pennsylvania, serve as the keynote speaker.
During the ceremony, eligible veterans will be presented a commemorative pin and a certificate of recognition. To be eligible for the pin, the recipient must be a living veteran who served on active duty in the U.S. armed forces between November 1, 1955 and May 15, 1975, regardless of service location. Veterans are eligible to receive only one pin, but prior recipients are welcome to attend.
Representative Helm's office is handling registrations for this event, and she may be contacted at 717-692-0833.
DiSanto Announces $15 Million Assistance for Lower Paxton Sewer Upgrades, Halifax Drainage Project
I was pleased to announce the recent approval of more than $13 million in assistance for Lower Paxton Township sewer upgrades and nearly $2 million in aid for a Halifax Borough drainage project.
The Pennsylvania Infrastructure Investment Authority (PENNVEST) approved a $13.2 million low-interest loan to help Lower Paxton Township finance the latest phase of its comprehensive upgrade of its sanitary sewer system. The work includes the replacement of 41,200 feet of sewer mains, manholes, lateral connections and building sewers in the Beaver Creek Basin, and 18,000 feet of sewer lines, manholes, laterals and building sewers in the Spring Creek Basin.
The improvements are mandated by a consent agreement with the state Department of Environmental Protection to reduce inflow and infiltration in the sewer system.
Halifax Borough will receive $1.1 million in direct funding plus $821,798 in a low-interest loan for the Strawberry Alley and Division Street Drainage Improvement Project.
The project will provide new roadway drainage systems designed to replace the existing systems between the high point in the roadway and the point of discharge. The new drainage systems will consist of pipes, inlets and channels, and roadway paving, and will collect storm water runoff emanating from the roadway and from properties along Strawberry Alley and Division Street. These improvements will substantially improve drainage conditions and reduce intermittent localized flooding on both streets.
Upgrading sewer and stormwater drainage systems is crucial for townships and boroughs, but it is very costly. Returning tax dollars to district municipalities to help fund these projects supports healthy, thriving communities.
2019 Adult Trout Stocking Schedules Now Available
​The Pennsylvania Fish and Boat Commission (PFBC) has announced that the 2019 adult trout stocking schedules are now available online and on the PFBC's "FishBoatPA" mobile app.
Anglers can easily search the trout stocking schedules for locations and dates of interest. To view the list, go to www.fishandboat.com, click on the link "Fish" in the upper right corner, then select Stocking Schedules. From there, select a county and enter start and end dates from the calendars at the top of the page. Then press "Go."
For anglers with smartphones, view the schedules through the FishBoatPA app, which is available for free from the Apple App and Google Play stores.
The PFBC continues to stock approximately 3.2 million adult trout in 707 streams and 127 lakes open to public angling. These figures include approximately 2.1 million rainbow trout; 640,000 brown trout; and 440,000 brook trout. As with past practice, the average size of the trout produced for stocking is 11 inches in length. The PFBC also plans to stock about 9,600 trophy golden rainbow trout that weigh an average of 1.5 pounds and measure at least 14 inches long. Thousands of trophy size brood trout are also stocked throughout PA waters.
In 2019, the number of trout that will be stocked remains consistent with previous years over the past decade. In addition to trout raised at state fish hatcheries, PFBC cooperative nurseries operated by sportsmen's clubs across the state will add another 1 million trout to waters open to public angling.
The 2019 season will open Saturday, March 23 with the Mentored Youth Trout Fishing Day program in 18 southeastern counties, including: Adams, Berks, Bucks, Chester, Cumberland, Dauphin, Delaware, Franklin, Juniata, Lancaster, Lebanon, Lehigh, Montgomery, Northampton, Perry, Philadelphia, Schuylkill and York.
The following weekend – Saturday, March 30 – kicks off the Regional Opening Day of Trout Season in the same 18 southeastern counties.
A second Mentored Youth Trout Fishing Day will be held on April 6, the Saturday before the April 13 regular statewide opening day of trout season.
To participate in the mentored youth program, adult anglers (16 years or older) must have a valid fishing license and trout permit and be accompanied by a youth. Youth anglers must obtain a free PFBC-issued permit, or a voluntary youth fishing license (only $2.90 including all fees). Both are available at www.GoneFishingPA.com or at any of the more than 700 licensing agents across the state.
For every voluntary youth license sold, the PFBC receives approximately $5 in federal revenue from the U.S. Fish and Wildlife Service's Sport Fish Restoration Act program, which provides funds to states based on a formula that includes the number of licenses a state sells. All revenues earned from a voluntary youth fishing license are dedicated to youth fishing programs.
Other Bills Passed by the Senate
Senate Bill 9 designates the Eastern Hellbender as Pennsylvania's state amphibian.
Senate Resolution 20 urges the Pennsylvania Supreme Court to delay action on its proposed change to Rule 1006 regarding venue in medical professional liability actions.
Senate Bill 26 releases Project 70 restrictions on lands owned by the Borough of Topton, Berks County, in exchange for the imposition of the restrictions on other lands to be acquired by the borough.
Senate Bill 130 releases a use restriction and reversionary interest affecting a property located partly in the Township of Mahoning and partly in the Borough of Danville in Montour County.
Committee Roundup
Agriculture & Rural Affairs
Senate Bill 85 provides for license fee exemptions for service dogs used by a fire department, sheriff's office or in the performance of rescue services or medical emergency services. Currently, the fee exemption exists only for any municipal or State police department or agency.
Senate Bill 145 amends the Agricultural Area Security Law to allow for the voluntary relinquishment of the right to construct a residence.
Game & Fisheries
Senate Bill 147 empowers the Pennsylvania Game Commission to allow Sunday hunting.
Judiciary
Senate Resolution 20 urges the Pennsylvania Supreme Court to delay action on its proposed change to Rule 1006 regarding venue in medical professional liability actions.
Senate Bill 49 extends "Good Samaritan" civil liability to a person who — in an effort to save a child — breaks a window or forcibly enters a parked, locked vehicle.
Senate Bill 86 amends the Newborn Protection Act to add urgent care centers to the list of "safe havens" where a parent may surrender a newborn.
State Government
Senate Bill 133 amends the State Constitution to allow gubernatorial candidates to select their own running mate.
Senate Bill 190 conveys a property in Somerset Township, Somerset County.
Transportation
Senate Bill 43 designates a portion of U.S. Route 30 in Westmoreland County, as the J. Edward "Hutch" Hutchinson Memorial Bypass.
Senate Bill 62 reduce the percentage of service-connected disability required for a veteran to qualify for a severely disabled veteran license plate from 100 percent disability to at least a 75 percent disability.
Senate Bill 117 designates a bridge on State Route 3016 (Bedford Street) over Solomon Run in the City of Johnstown, Cambria County, as the Seaman Apprentice Kenneth D. Scaife Memorial Bridge.
Up Next
The Senate Appropriations Committee will hold three weeks of public hearings on the proposed state budget from February 19 to March 7. You can view the hearings and hearing summaries at PASenateGOP.com.
The Senate will reconvene Monday, March 18 at 1 p.m. You can watch session live at SenatorDiSanto.com.