Week of March 25, 2019
In this Update:
DiSanto Bill Stripping Public Pensions for Felonies Becomes Law
DiSanto Announces $1.3 Million for Three Dauphin County Transportation Projects
Senate Approves Bill to Prevent Child Heatstroke Deaths in Vehicles
Bill to Expand CPR Training in Schools Approved by Senate
Other Bills Approved by the Senate and sent to House
Committee Roundup
DiSanto to hold Seminar on Avoiding Scams and Identity Theft
Community Calendar
Up Next
DiSanto Bill Stripping Public Pensions for Felonies Becomes Law
Legislation I introduced to ensure that elected officials and public employees who commit job-related felonies are stripped of their taxpayer-funded pension was signed into law on March 28, 2019 by Gov. Wolf.
With the enactment of SB 113 as Act 1 of 2019, we are putting elected officials and public employees on notice that they will no longer be able to abuse their power and walk away with a lifetime taxpayer-funded pension.
Currently, the Public Employee Pension Forfeiture Act requires a public employee to forfeit his or her pension only for certain crimes listed in the act. In practice, this law allows elected officials and public employees charged with a forfeiture crime to plead guilty to a different non-forfeiture crime in order to avoid losing their pension.
Act 1 of 2019 requires pension forfeiture if a public employee or elected official is convicted of or pleads guilty or no contest to any felony offense related to his or her employment.
The law also closes the "Mellow Loophole," through which former State Senator Bob Mellow of Lackawanna County had his $245,000 a year pension restored despite pleading guilty and being sent to prison on federal conspiracy charges.
In addition, the new law ensures that such criminal convictions are reported to state pension boards. Prior to Act 1, the law did not require the employee, courts, or state agencies to send copies of court records upon conviction. Instead, pension boards learn of pension forfeiture cases through agency websites and newspaper articles. Under Act 1, courts will now be required to notify state pension systems of all pension forfeiture cases.
This legislation ensures felons face a financial penalty for violating the public trust and helps restore people's faith in our government institutions. I thank the governor and my colleagues in the general assembly for their support of this commonsense legislation and look forward to advancing further government reforms on behalf of the citizens of Pennsylvania.
DiSanto Announces $1.3 Million for Three Dauphin County Transportation Projects
A safe, modern transportation system is key to fostering economic development and promoting thriving communities. I am pleased that tax dollars are returning to the 15th district to help pay for these important projects.
The funding was approved by the Commonwealth Financing Authority through its Multimodal Transportation Fund Program.
The following grants were approved:
Derry Township – $1 million
Derry Township will use the grant to help pay for the relocation and extension of Sand Hill Road. This project involves the widening of Fishburn Road to allow for a left tum lane and other roadway improvements; the relocation and the signalization of Sand Hill Road to provide improved access to "The Crossing" development; and the excavation, grading and paving of 450 feet of Fishburn Road, north of the Sand Hill Road intersection. A bike path will also be constructed on this road. The intersection of Sand Hill and Fishburn roads is failing due to the increased eastbound and southbound traffic leaving the medical center. The changes will address congestion along Governor Road (Route 322) caused by regular peak hour flow and from traffic exiting the Penn State Milton Hershey Medical Center Campus. The total project cost is $2,668,891.
Halifax Borough – $250,000
Halifax Borough will use the funds to assist with putting in new sidewalks, curbs and ADA-compliant ramps along Rise Street, School Street and Fifth Street. The work will include additional inlets and piping that may be required to collect and convey stormwater runoff to reduce ponding and flooding effects on the roadway or sidewalk as a result of the new curbing and sidewalk. This new and improved infrastructure will provide students and other pedestrians a safe route to bus stops and from the residential area to the Halifax Area School District campus. The total project cost is $908,071.
Harristown Development Corporation – $100,000
Harristown Development Corporation will use the grant for pedestrian and streetscape improvements to the SoMa (South of Market Street) neighborhood located in the City of Harrisburg. The improvements along Third Street, between Market Street and Chestnut Street, include the demolition of existing concrete sidewalks, construction of 7,110 square feet of new sidewalk, installation of brick pavers and five bike racks. The proposed project will work together with the City of Harrisburg's current project of milling and repaving the entire Third Street corridor, which is expected to be completed in 2019. The total project cost is $156,330.
The Multimodal Transportation Fund grants may be used for transportation development, rehabilitation and enhancement projects, including work to improve streetscapes, lighting, sidewalks, pedestrian safety, transportation system connections and transit-oriented development.
Senate Approves Bill to Prevent Child Heatstroke Deaths in Vehicles
The Senate approved legislation on Monday that provides immunity to individuals who rescue children who have been left unattended in hot cars.
Senate Bill 49 extends "Good Samaritan" civil liability to a person who — in an effort to save a child — breaks a window or forcibly enters a parked, locked vehicle. The bill is named in memory of the 49 children who died last year from vehicular heatstroke.
The law would bring Pennsylvania in line with 20 other states that give immunity to bystanders who help children locked in hot vehicles. The measure now goes to the House of Representatives for consideration.
Bill to Expand CPR Training in Schools Approved by Senate
The Senate passed legislation Wednesday aimed at saving lives through greater education and training in cardiopulmonary resuscitation (CPR).
Senate Bill 115 would strengthen academic guidelines in schools for CPR training in grades nine through 12, while adding hands-only CPR instruction to Pennsylvania's education curriculum.
More than 350,000 cardiac arrests occur outside of hospitals each year, and there is a less than 10 percent survival rate for sudden cardiac arrest. If enacted, Pennsylvania would become the 39th state with such CPR legislation. The measure now goes to the House of Representatives for consideration.
Other Bills Approved by the Senate and sent to House
House Bill 18 authorizes the release of Project 70 restrictions on lands owned by the Borough of Topton, Berks County, in exchange for the imposition of the restrictions on other lands to be acquired by the borough. The bill also provides for land conveyances in Chester, Lehigh and Monroe counties. The bill returns to the House of Representatives for concurrence on Senate amendments.
Senate Bill 86 amends the Newborn Protection Act to add urgent care centers to the list of "safe havens" where a parent may surrender a newborn.
Senate Bill 127 reauthorizes Pennsylvania's 911 Law, which is set to expire on June 30, 2019.
Senate Bill 298 transfers "Stolen Valor" fines to the Pennsylvania Veterans' Trust Fund.
Committee Roundup
Appropriations
Senate Bill 115 integrates CPR instruction into existing curriculum for grades 9-12.
Senate Bill 127 reauthorizes Pennsylvania's 911 Law.
Senate Bill 298 transfers "Stolen Valor" fines to the Pennsylvania Veterans' Trust Fund.
Senate Bill 372 updates the state History Code.
Consumer Protection & Professional Licensure
Senate Bill 25 modernizes the Professional Nursing Law for Advanced Practice Registered Nurses.
Senate Bill 112 limits prescriptions for a controlled substance containing an opioid to seven days unless there is a medical emergency that puts the patients' health or safety at risk.
Senate Bill 217 removes Philadelphia's exemption from the Assessors Certification Act of 1992.
Finance
Senate Bill 83 exempts volunteer fire companies from paying sales tax on food and beverages sold for fundraising efforts.
Senate Bill 471 establishes a sales and use tax exemption for certain equipment purchased by data centers and their tenants.
Judiciary
Senate Bill 123 limits parole re-application for sexually violent offenders.
Senate Bill 149 amends the state Constitution to create a crime victims' "Bill of Rights." Since the measure is a Constitutional amendment it must be approved by the Senate and House during two sessions before it can go to the voters. It was approved during the 2017-18 Legislative Session as Senate Bill 1011.
Senate Bill 337 establishes sextortion as a specific criminal offense with consequences comparable to other sexual offenses.
Senate Bill 396 prohibits the sale of electronic nicotine delivery systems and alternative nicotine products to minors.
Senate Bill 399 provides for a comprehensive bill of rights for survivors of sexual assault.
Senate Bill 425 amends Pennsylvania's Crime Victims Act to allow victims to attend the entirety of criminal trials.
Senate Bill 431 shields rape victims from irrelevant cross examination.
Senate Bill 469 addresses testimony by those with intellectual disabilities or autism.
Senate Bill 479 expands the Tender Years Exception for out-of-court statements to include additional serious sexual offenses.
Local Government
Senate Bill 110 amends the Home Rule Law.
House Bill 264 adds fiscal procedures for the collection of monies by municipal authorities.
House Bill 275 changes the name of the "Early Intervention Program" under the Municipalities Financial Recovery Act to the "Strategic Management Planning Program."
Senate Bill 316 allows newly elected Second Class Township Supervisors to attend conferences, institutes, schools and conventions prior to officially taking office.
Senate Bill 317 amends the Second Class Township Code regarding mandatory annual budget requirements.
State Government
The committee held a public hearing on the Pennsylvania Department of State's intention to decertify all election machines statewide prior to the elections of 2020. Counties must then replace those machines with expensive new machines.
Hearing Video & Written Testimony
Transportation
Senate Bill 109 requires passengers of a vehicle to render aid to anyone injured in an accident.
Senate Bill 338 increases the allowable width for farm equipment on roads.
Senate Bill 397 designates the interchange of the Mon-Fayette Expressway, Pennsylvania Route 43 and U.S. Route 119 in Fayette County as the Senator Richard A. Kasunic Interchange.
Senate Bill 441 designates the State Route 2087 bridge over the East Branch Codorus Creek in York County as the Sgt. Christopher M. Wrinkle and Tosca Memorial Bridge.
Urban Affairs & Housing
Senate Bill 30 creates a state housing tax credit.
Senate Bill 174 provides for the tax sale of abandoned properties.
Senate Bill 309 creates First-time Homebuyers Savings Accounts.
Veterans & Military Affairs
The committee held a public hearing Monday on the impact of Act 23 of 2015. The law was enacted to ensure that a service member's military education and training are taken into consideration for the purpose of fulfilling requirements for professional credentials. The aim was to prevent the duplication of training and education of a veteran and get them into a civilian career faster. The hearing explored whether addition legislation is necessary.
Hearing Video & Written Testimony
DiSanto to hold Seminar on Avoiding Scams and Identity Theft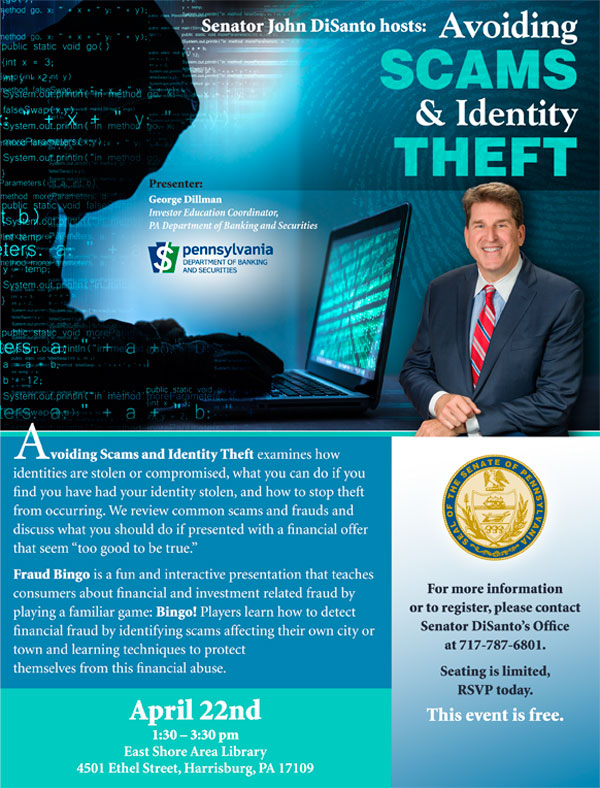 Community Calendar
April 6 – Northern Dauphin Community & Career Fair, Lykens
April 11 – YWCA's Card's with Heart Artist's Reception, Harrisburg
April 28 – Gamut Theatre's 2019 Gala: Carnival de Verona, Harrisburg
Up Next
The Senate returns to voting session on Monday, April 8, at 1 p.m. You can watch session live at SenatorDiSanto.com.