In This Update:
Senate Approves Resolution to Free PA from Governor's COVID-19 Shutdown
Bill Would Require Legislative Approval of Extended Emergency Declarations
Guidance Now Available for COVID-19 Relief Statewide Small Business Assistance Grants
Unacceptable: COVID-19 Testing for Long-Term Care Facilities Not Required to be Completed until July 24
Future PUA Payments to be Paid by Debit Card
---
Senate Approves Resolution to Free PA from Governor's COVID-19 Shutdown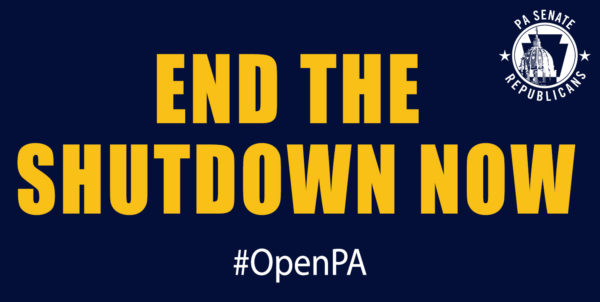 Governor Wolf's extended lockdown of Pennsylvania is hurting families and doing irreparable harm to employers. This week, I voted in favor of a resolution that would end the governor's executive order to shut down businesses statewide.
House Resolution 836 would end the governor's disaster declaration and allow all companies in Pennsylvania to operate safely and consumers to use their services without the need for a business waiver. The measure legally compels Governor Wolf to rescind his emergency order; he does not have the option to sign or veto it.
Because the governor has refused to carry out his mandatory duty to act, the Senate filed in the state's Commonwealth Court urging the court to "command" the governor to terminate the declaration in accordance with the law.
Ending the disaster declaration will not jeopardize Pennsylvania's ability to access federal funding or respond to any possible resurgence of COVID-19. It would only prevent the governor from continuing to suspend state laws, spend money indiscriminately, and keep businesses shut down indefinitely.
Although many of us supported Governor Wolf's actions to slow the spread of the virus in March, his prolonged business shutdowns are clearly doing more harm than good today. Unfortunately, as long as he continues to refuse to rescind his order, all of the existing executive orders, color codes, etc. from the governor remain in effect until the matter is settled by the courts. I will continue to do all I can to put an end to the shutdown and get Pennsylvania back to work safely in the days and weeks ahead.
Bill Would Require Legislative Approval of Extended Emergency Declarations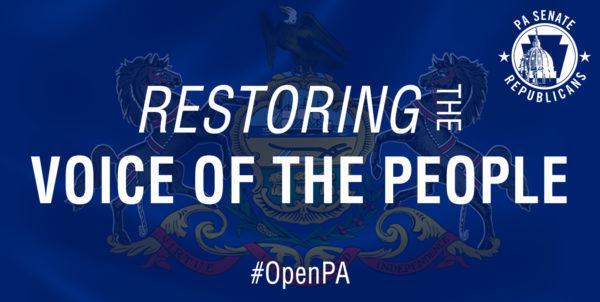 During a prolonged period of emergency, cooperation between all branches of government is crucial. Governor Wolf's unwillingness to work with the General Assembly is one of the biggest reasons why Pennsylvanians are suffering needlessly right now.
The Senate approved a bill with bipartisan support this week to limit the length of an emergency declaration to 30 days unless approved for a longer duration by the General Assembly. Senate Bill 1166, which I sponsored, would ensure collaboration during emergencies and restore the system of checks and balances upon which our government is founded.
The need for the legislation has been highlighted by Governor Wolf's refusal to work with the General Assembly throughout the COVID-19 public health emergency. The governor has used the disaster declaration for nearly 100 days to suspend state statutes, spend taxpayer dollars without legislative approval, and keep millions of Pennsylvanians from earning a living as a result of his business shutdown orders.
This legislation is essential for preserving our system of self-governance as well as our unalienable rights to life, liberty, and the pursuit of happiness. The indefinite consolidation of government control in any one individual makes it impossible to hold government accountable during a crisis and it is vitally important we reassert our constitutional principles and stand against government overreach.
The bill also would amend the Pennsylvania Constitution to prohibit the denial of equal rights based on race or ethnicity. The change would bring the state Constitution into line with the equal protections afforded by the U.S. Constitution.
Because this bill would require an amendment to the Pennsylvania Constitution, the bill must be passed by the Senate and House of Representatives in two consecutive legislative sessions and be approved by voters via referendum.
Guidance Now Available for COVID-19 Relief Statewide Small Business Assistance Grants
The Department of Community and Economic Development (DCED) has announced that program guidelines and additional details for the COVID-19 Relief Statewide Small Business Grants are now available on DCED's website.
Under the program, $225 million is available for COVID-19 relief to small businesses through a distribution to Community Development Financial Institutions (CDFIs) for loan payment deferment and portfolio loan loss reserves, main street business revitalization grants, and historically disadvantaged business revitalization grants.
Eligible businesses with 25 or fewer employees may receive a maximum grant of $50,000 so long as the business was in operation on February 15, 2020 and, if required, paid income taxes to the state and federal government, as reported on individual or business tax returns; COVID-19 has had an adverse economic impact and makes this grant request necessary to support the ongoing operations of the applicant; the grant will be used cover COVID-19 related costs; and during the period beginning on June 1, 2020 and ending on December 31, 2020, the applicant has not and will not receive another grant under this state program.
Unacceptable: COVID-19 Testing for Long-Term Care Facilities Not Required to be Completed until July 24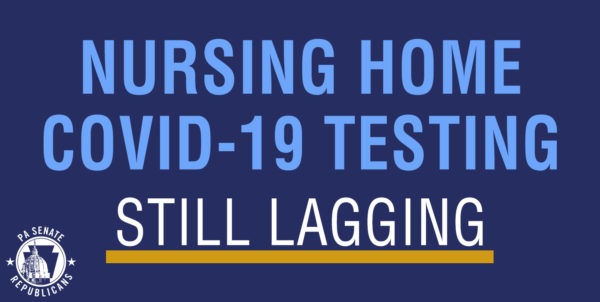 Nursing homes and other long-term care facilities have been one of the hardest-hit populations during the COVID-19 pandemic. After a Senate hearing in April exposed gross inadequacies in how the Wolf Administration handled these facilities during the public health crisis, the administration pledged to require testing of all long-term care staff and residents.
However, new testing procedures and guidelines from the Department of Health do not require such testing until July 24. With more than 70% of Pennsylvania's COVID-19 deaths occurring in these locations, such a delay is unacceptable.
I supported passage of a new law two weeks ago that dedicated more than $690 million of Pennsylvania's share of money from the Coronavirus Aid, Relief, and Economic Security (CARES) Act to support long-term care facilities. The administration must fix its irresponsible mishandling of our most vulnerable citizens immediately.
The new Department of Health's requirements will include a baseline test of residents and staff at all facilities and weekly testing at facilities that have a positive test. More information is available in a FAQ.
Future PUA Payments to be Paid by Debit Card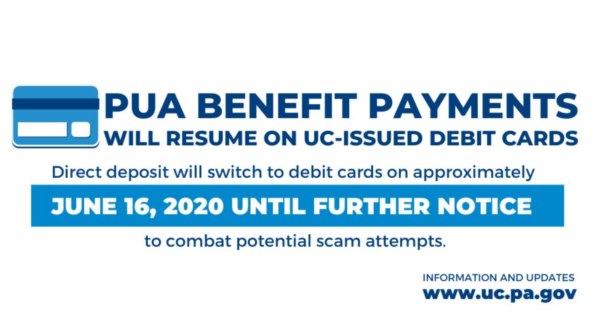 Benefit payments from the Pandemic Unemployment Assistance (PUA) program were temporarily switched to paper checks last week in order to identify and reduce numerous instances of fraud. Beginning soon, all payments will be issued via US Bank ReliaCards. The special debit cards will be mailed this week to claimants who do not already have one.
Claimants can still receive a paper check in they specifically request one. These payments include the additional $600 a week from the Federal Pandemic Unemployment Compensation (FPUC) program.