In This Update
DiSanto Says Stronger "Steer Clear" Law Needed
DiSanto Announces Historic Preservation Grants for Projects in Dauphin, Perry Counties
Reminder: DiSanto to Host Grants and Funding Workshop Sept. 15
Bill Requiring Legislative Approval of RGGI Goes to the Governor
Senate Votes to Give Schools Final Say on School Sports, Spectators
Wolf Administration Rolls Back Restaurant Occupancy Restrictions
Applications Available Now for Additional Unemployment Payments
Bill Moves Forward to Protect Young Victims of Sexual Assault
Broadband Deployment Could Get a Boost from Senate Action
Senate Votes to Observe Moment of Silence Honoring Lives Lost in 9/11 Attacks
---
DiSanto Says Stronger "Steer Clear" Law Needed
On Tuesday, I joined several of my colleagues in announcing Senate Bill 1281 to protect first responders–including law enforcement, emergency medical services, tow truck drivers, and firefighters–when they respond to emergency scenes, traffic stops or disabled vehicles on the highway.
SB 1281 would rebrand our state's "Steer Clear" law to "Move Over" law to provide clearer instructions to the public, require additional communications from PennDOT to educate motorists about their responsibilities, and increase penalties for violating the law.
Locally, we recently suffered the tragic loss of Tyler Laudenslager of Halifax when, as a tow truck operator, he was struck while responding to a disabled vehicle. I was humbled to present his wife, mother and sister with a Senate Condolence Citation. No family should have to experience the avoidable death of a loved one like this.
A full video of the announcement is available at: https://www.senatordisanto.com/2020/09/08/tuesday-senator-mastriano-and-senator-kim-ward-to-host-first-responders-discuss-move-over-legislation/
SB 1281 passed the Senate Transportation Committee on Wednesday and now moves to the full Senate for consideration.
DiSanto Announces Historic Preservation Grants for Projects in Dauphin, Perry Counties
Several Keystone Historic Preservation Grants were awarded this week to support projects in Dauphin and Perry counties.
The City of Harrisburg received a $13,500 grant to identify environmental and structural issues at site of the 19th Street Armory as it explores reusing or selling the site. A significant piece of Pennsylvania's military and architectural history, the 82-year-old building has been subjected to blight and now sits on an empty corner in an otherwise lively area.
The 19th Street Armory is part of the narrative of the military history of Harrisburg and Pennsylvania. This state assistance will help the city explore options for the building and give new life to this architecturally and historically significant structure.
Friends of Fort Halifax Park received a $17,746 grant to explore evidence to positively identify the location of the fort in Fort Halifax Township Park. Earlier projects found buried features and recovered military and domestic artifacts dating from the mid-18th century that could be associated with the fort.
Over the last decade, small archeological investigations have uncovered evidence of the location of Fort Halifax. This grant will allow the Friends of the Fort Halifax Park to follow up on that work with a 2021 school and volunteer field project aimed at further pinpointing the location.
The Historical Society of Dauphin County will receive a $10,000 grant to continue the preservation of the National Historic Landmark John Harris-Simon Cameron Mansion site.
The Historical Society identified the site's most pressing projects, including the restoration of the bell on the mansion grounds and the John Harris gravesite. This grant will help fund this important work.
The Historical Society of Perry County received a $25,000 grant to take the results from a recently completed master plan and create an architectural and engineering plan from which the restoration of the Clark's Ferry Tavern may begin.
The grants were among 52 awarded statewide by the Pennsylvania Historical and Museum Commission through the Keystone Historic Preservation Grant Program.
The program is used to fund preservation, rehabilitation and restoration activities of historic sites that are eligible for or listed in the National Register of Historic Places. PHMC grants also can be used for planning activities that support the preservation of historic properties.
All applicants are required to provide a 50 percent cash match in order to show a commitment from the sponsoring organization.
Reminder: DiSanto to Host Grants and Funding Workshop Sept. 15
I will be hosting a virtual Grants and Funding Workshop on September 15 for municipal officials, first responders and non-profit organizations. Many grants are extremely competitive, and I want to make sure local governments, first responders and non-profits have the tools they need to maximize their chances of securing funding for critical needs in our local communities.
The session will be held via Zoom beginning at 10:30 a.m. and is expected to conclude by noon. The workshop will feature tips on how to find government and foundation grants and to submit a solid application. Participants are welcome to ask questions about current or future projects their organization is considering.
There is no charge for the workshop, but pre-registration is mandatory. To register for the workshop, visit www.senatordisanto.com/funding-workshop/, call my office at 717-787-6801 or email Tiffany Price at tprice@pasen.gov.
Bill Requiring Legislative Approval of RGGI Goes to the Governor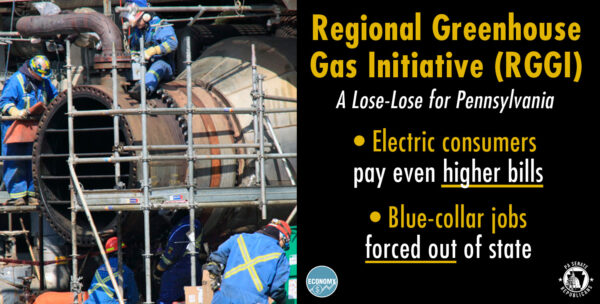 Pennsylvania's participation in the Regional Greenhouse Gas Initiative (RGGI) could cost the state thousands of jobs and hundreds of millions of dollars in economic activity. The Senate approved a bill this week that would prevent the Department of Environmental Protection (DEP) from participating in RGGI or enacting any similar carbon tax on Pennsylvania employers without the approval of the General Assembly.
Under the bill, DEP would be required to provide a public comment period of at least 180 days on RGGI legislation and hold a minimum of four public hearings in communities that would be directly impacted by the proposal.
After the public comment period, DEP would be required to submit a report to the House and Senate Environmental Resources and Energy committees detailing the specific economic and environmental impacts that joining RGGI would have on impacted communities and the Commonwealth. Lawmakers would then have the final say on whether the state should join RGGI or any similar compacts that would enact a carbon tax on Pennsylvania employers.
Senate Votes to Give Schools Final Say on School Sports, Spectators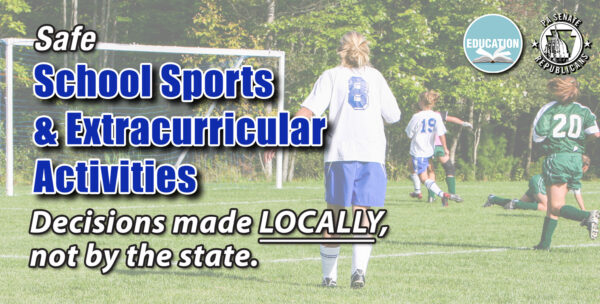 The Senate gave final approval to a bill this week that would ensure school districts could make the final decision on whether to allow school sports, extracurricular activities and spectators during the 2020-21 school year. The bill would remove the uncertainty that has been created by the Wolf Administration's unclear and constantly shifting guidance for schools.
The bill would allow school districts to develop their own health and safety plans that reflect the realities facing schools during the COVID-19 pandemic. The health and safety plans would be required to be posted online and submitted to the Department of Education.
Under the bill, any individual who has COVID-19 in a transmissible stage would be prohibited from participating in any sporting event or extracurricular activity.
Wolf Administration Rolls Back Restaurant Occupancy Restrictions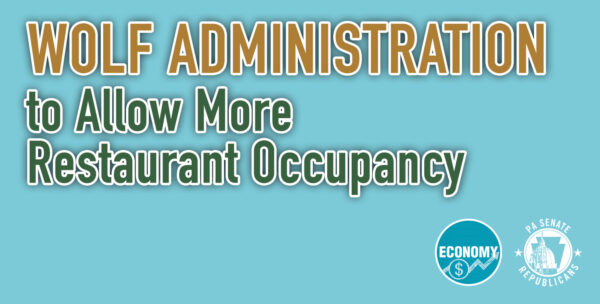 The Wolf Administration announced updated guidance this week that will allow restaurants to open at 50 percent capacity. The announcement came on the same day that the Senate Law and Justice Committee unanimously passed a bill that would have removed the governor's 25-percent cap on occupancy and allowed restaurants to operate at 50 percent capacity until the current COVID-19 emergency declaration ends.
Under the new guidance, restaurants may open at 50 percent of normal capacity beginning on September 21. Restaurant owners that expand to 50 percent occupancy will be required by the Wolf Administration to certify by October 5 that they have read and agreed to follow COVID-19 mitigation plans.
Although the new guidelines will help some establishments, the Wolf Administration's new prohibition on alcohol sales after 10 p.m. will be extremely difficult for other businesses to manage.
Applications Available Now for Additional Unemployment Payments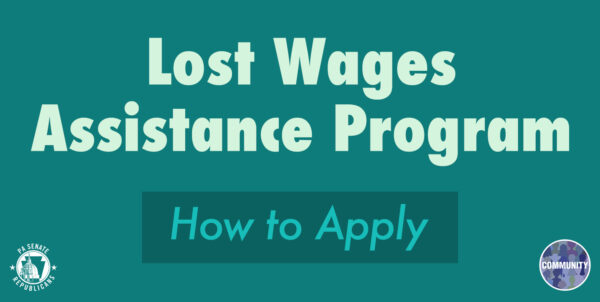 The Pennsylvania Department of Labor and Industry is accepting applications now for President Trump's Lost Wages Assistance program to provide an additional $300 per week in unemployment payments for many residents impacted by the COVID-19 pandemic. The department began taking applications on Sunday.
More details about eligibility and applications are available here.
Bill Moves Forward to Protect Young Victims of Sexual Assault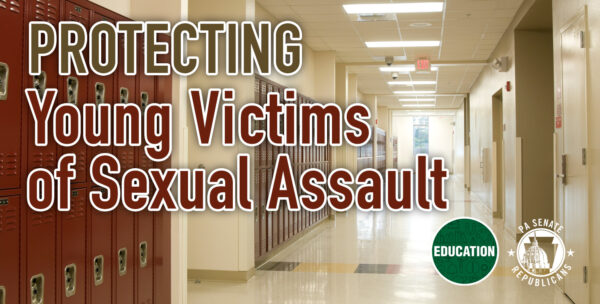 The Senate approved a bill this week that would protect young victims of sexual assault against the possibility of having to attend school with their attackers. The legislation would require schools to remove any student convicted or adjudicated delinquent of sexual assault against another student enrolled at the same school.
Broadband Deployment Could Get a Boost from Senate Action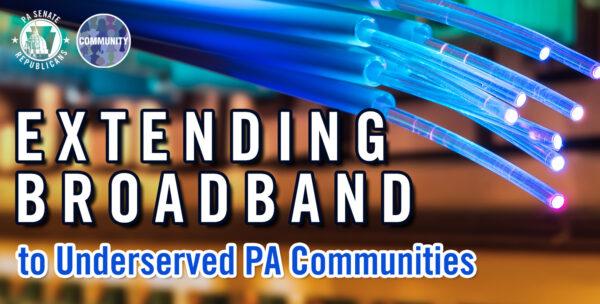 Access to broadband has become even more crucial during the COVID-19 health crisis. This week, the Senate approved a bill that would establish a grant program to extend deployment of broadband services in underserved areas of the state. The bill would provide more funding to rural areas that currently do not have access to reliable high-speed networks.
Senate Votes to Observe Moment of Silence Honoring Lives Lost in 9/11 Attacks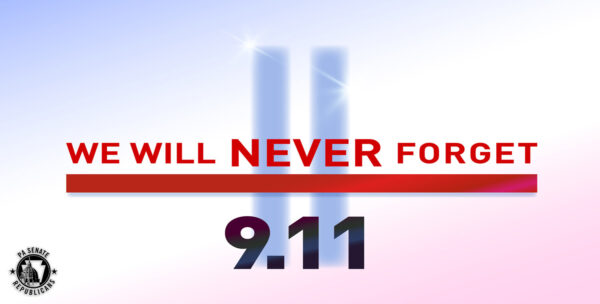 In recognition of the 19th anniversary of the September 11 terrorist attacks, the Senate voted this week to observe a moment of silence in schools to honor our fellow Americans who lost their lives on that fateful day. The bill also will ensure model curriculum is developed to help students understand the significance of these attacks in our nation's history.
In addition, the bill would create a similar moment of silence in recognition of Pearl Harbor Day on December 7.