In This Update:
Committee Discusses Future of Telemedicine in Pennsylvania
Grants Available for Environmental Education Projects
Motorcycle Safety Courses Resume
REMINDER: Mental Health Resources Available for Pennsylvanians in Need
New Scam Targets SNAP Assistance Program
---
Committee Discusses Future of Telemedicine in Pennsylvania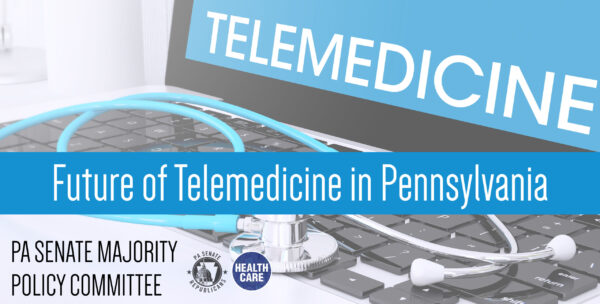 Telemedicine services were authorized in Pennsylvania on a temporary basis at the beginning of the COVID-19 pandemic, and these services have played a critical role in ensuring patients could continue to access medical services without gathering in waiting rooms and other areas where the virus could easily spread. This week, the Senate Majority Policy Committee hosted a workshop discussion to gather input on the future of telemedicine in Pennsylvania.
During the discussion, medical experts and other stakeholders spoke at length about the benefits of telemedicine to patients, and they encouraged lawmakers and Governor Wolf to approve a new telemedicine law to ensure these services can continue even after the COVID-19 pandemic has subsided.
Lawmakers approved a bill authorizing telemedicine in Pennsylvania on a permanent basis in April, but Governor Wolf vetoed the bill.
Grants Available for Environmental Education Projects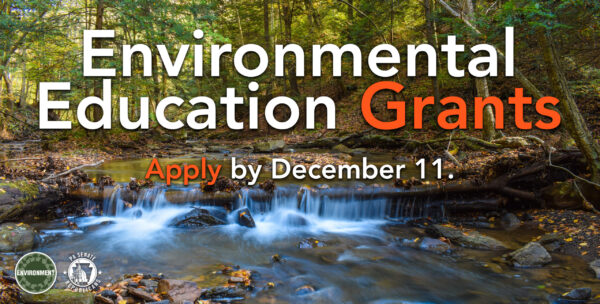 Youth and adult environmental education projects may be eligible for grant funding from the state Department of Environmental Protection. Schools, colleges, nonprofit community and environmental organizations, county conservation districts and businesses are encouraged to apply for Environmental Education Grants by December 11.
A special webinar is scheduled for October 14 from 1 p.m. until 2:30 p.m. to provide additional information on how to apply. Registration is required. Registration and more details are available here.
Motorcycle Safety Courses Resume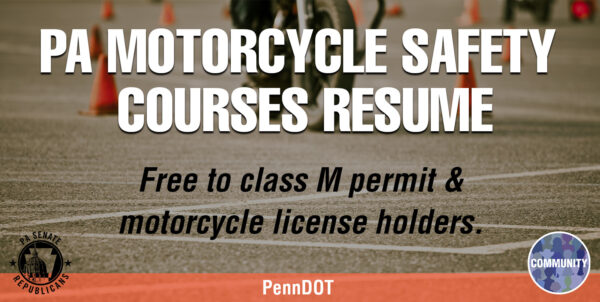 Pennsylvania Motorcycle Safety Program classes are set to resume statewide through the end of the year with new safety measures in place to protect against COVID-19. The classes are free to Pennsylvania motorcycle permit and license holders. Completing the basic or intermediate course waives the requirement for a permit holder to complete the skills test at a PennDOT Driver License Center.
A list of locations and training providers is available online, and virtual training is also available for individuals under the age of 18.
REMINDER: Mental Health Resources Available for Pennsylvanians in Need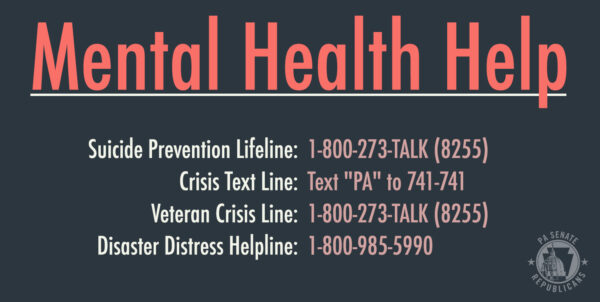 Pennsylvanians who are struggling with mental health issues can find help through a variety of different avenues. If you or someone you know are experiencing a mental health crisis, help is available by calling the National Suicide Prevention Lifeline at 1-800-273-8255 or by texting "PA" to the Mental Health Crisis Text Line at 741741.
Pennsylvania residents can also call the PA Support & Referral Helpline at 1-855-284-2494. More information on mental health resources is available here.
New Scam Targets SNAP Assistance Program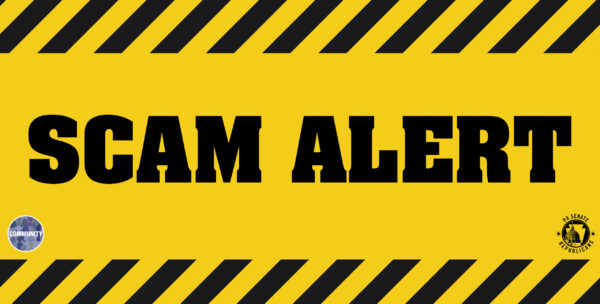 Community residents should be aware of a new scam involving the Supplemental Nutrition Assistance Program (SNAP). The scam involves text messages telling the recipient that they have been selected to receive assistance through SNAP and requesting personal information that is later used to commit fraud.
Government agencies do not solicit participation in assistance programs like SNAP through text messages. If you ever have a question about whether a call, text, letter or other communication is legitimate, questions can be directed to the Statewide Customer Service Center at 1-877-395-8930.